One thing that I absolutely won't miss about China is the trauma that is involved in going to the hairdresser. I was initially lulled into a false sense of security by the fact that my first hairdresser here gave me the best cut and colour EVER. Then he left for India, or TImbuktoo or somewhere. How selfish is that?
Since then, it has not gone so well. My hair has been all colours – from a sort of sludgy green to yellow. (You know when children draw blondes with crayon it comes out yellow – well it was that colour).
Here's the problem: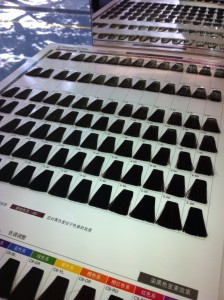 It is bad enough trying to choose hair colour from plastic bits of Barbie hair – but here they are pretty much all shades of black (these really are all slightly different shades of black). My advice to anyone wanting highlights in China – don't do it. Embrace your inner brunette. You see all those Chinese girls and boys with orange hair – well the hairdressers don't do a good job for them either. Save yourself.
Luckily my haircuts were never too bad – mostly because I just allow an inch off the end closely supervised 😉 According to one hairdresser (from Mongolia actually), Asians/ Westerners not only have different hair, they have different shaped heads, which is why some styles don't translate well. That explains a lot.
So, while I haven't had amazing hair colour in the US (hairdressers are mostly just trained by local salons it seems), at least it hasn't been yellow. Well maybe just a bit.