New Zealand is an amazing country, positively crammed with geological fascination, ancient culture and unimaginably beautiful countryside. But what was I looking forward to seeing more than anything? Marlborough. I'm ashamed to say it but I was ridiculously excited about visiting Marlborough Vineyards, the northernmost region of the South Island and the source 0f arguably the best Sauvignon Blancs in the world.
In particular, I was looking forward to visiting Cloudy Bay. Not because it has the best wine (not the best, but exceedingly good) but because the name is my strongest association with New Zealand wines as this vineyard has successfully exported to UK and US wine shops for many years. They export their Sauvignon Blanc by the truckload, but it turns out that they have a really rather good Pinot Noir and some tasty bubblies too. The wine gets its name from a beautiful nearby bay. Come to think of it, I was pretty excited to visit there too, so much so that this part of the trip felt like a mini- pilgrimage.
We visited by mountain bike  – positively the best mode of transport for going wine tasting (in the past we seem to have visited rather a lot of vineyards by motorbike which is not a good plan for many reasons).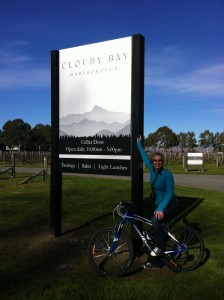 The vineyards are beautiful – but striking in their diversity. Some are quite ruggedly stunning like those in South Africa, others can be found in lushly green neatly ordered rows like those in France, others on chalky windswept hillsides or barren riverbeds. The climate changes from one hillside to the next – from one corner to the next, are dramatic. We were there in the middle of the NZ winter – so the vines were dormant  – but the weather was warm and the whole area was stunning. I can't wait to go back.