Archive for February, 2012
This weekend I fly to Barcelona for the Mobile World Congress. I'm really pleased to be going to the show after a few years' absence and am really looking forward to catching up with old friends and new technologies but the flight isn't going to be much fun.  It's a long way from Shanghai, particularly if you are in the back of the plane, and I admit it, I've acquired quite a taste for the sharp end over the last few years.
My airline status is linked to United so I tend to try to fly with them when possible (I really am a sucker for those long haul upgrades). However, Shanghai to Barcelona on United involved four flights so I booked with Lufthansa. Easy so far. The next part of the plan was to ask United to apply a couple of my Systemwide upgrades to the flights – they are both part of the joined up Star Alliance happy family after all.
So I called United to ask them to apply my upgrades. No problem – they said. Great, that was easy.
But this is United Airlines we are talking about.
Like an idiot I assumed that they would just press a button that would send the request for upgrade waitlisting to Lufthansa – it was an eticket that was booked online after all. That would clearly be the most obvious way of doing things so of course that's not at all how it works.
Instead of using the wonders of the Internet to magically transmit this information from one company to another, United has a slightly different process. They print out actual certificates and send them. Even worse, they printed out certificates in America and then sent them to me in China. They didn't even use Fedex to send them as they had promised, they used regular mail. This took just over 3 weeks to arrive (actually that was pretty impressive – I just received a card this week sent FROM CHINA before Christmas).
Here's what the little beauties look like: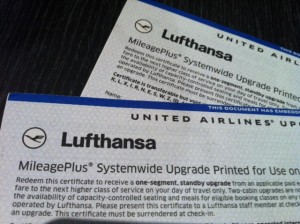 I've had a theory for some while about United. I think that new planes are equipped with shiny new cabin crew, which then ages slowly with the same plane (although presumably with fewer parts replacements). That would explain the pensioners they have serving business and first class. Seriously, some of them just dodder around during the flight – so much for being there "for your safety".  I now suspect the same thing happens with United's processes. The printing things off and posting them worked just fine in the 1980s, so why should they be changed now?
That said I felt like I'd just received one of Willy Wonka's golden tickets when they arrived. Now at least I'm in with a tiny chance of comfort (although United business seats flatten to a rather jaunty angle that makes you constantly feel like you are sliding off feet first….)
I'll find out tomorrow if this has all been worth it. Tomorrow I take my shiny new certificates to check in where I will have to ask them nicely to consider me for an upgrade. In my experience the Pudong airport check in staff have not been terrifically customer service focused, or indeed interested in human beings in general so wish me luck!
**UPDATE** I got my upgrade. There was some consternation at the check in desk but got a business class seat. OK the seat in question was one of those that is described as "flat" suggesting horizontal, but actually is flat at a rather jaunty angle – I imagine that if you reversed the head and feet that it would be the perfect angle for waterboarding. I digress…the weird paper based certificate resulted in me having a rather nice seat and mostly recognisable food items. Happy days.