Archive for September, 2011
Giving up driving is tough – although being in the US has been a period of adjustment towards not driving. The US police stopped me pretty much ever time I went over 30 miles an hour so I started driving like a granny everyone else. That's to say I stopped driving and started using a car to get from A to B.
Being totally without transport is cold turkey for a petrol head. They make it so difficult and expensive to get a motorcycle here that that option is off the table too. I had looked at the electric bicycles and scooters and left feeling pretty despondent – I'm used to over 100bhp at my disposal at the flick of my wrist and I think my toaster has more horsepower than these scooters. Urgh.
But as is proving to be such a regular occurrence in this country. I was wrong. Scooters and electric bicycles, no matter how puny their engines, are actually high occupancy vehicles and/ or freight vehicles.
It's completely normal to see a family of four riding on a scooter. The father is at the front at the controls, the smallest child stands between his knees, the wife sits behind him and the second child is sort of sandwiched between the parents. Who needs a car? The traffic here is pretty crazy so it isn't as if you get to go very fast anyway.
You also see a surprising amount of stuff piled onto bicycles, trikes and scooters. It seems that the motto is "where there's a will there's a way". No pile of boxes to large apparently. Here's the most I've seen on a wheeled vehicle so far: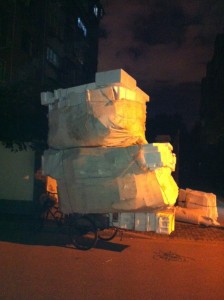 To be fair they have a point –  this is significantly more than I could fit into any of the cars I've ever owned. I need to get one of those! Or maybe I should realise my dream of building a motorised sofa…