Archive for April, 2010
I remember when I was little, one of the best things at school fairs and the like was the cake stall where you could buy all sorts of scrummy cakes that legions of little old ladies and girl guides had baked to raise money. There's just nothing to match a home made Victoria sponge…Yum.  Well, things have moved on, at least in the good old US of A. The sale of girl scout cookies, which I am sure had similar humble beginnings to those school fairs I attended, has become and seriously commercial, soulless and frankly, nutritionally dubious activity.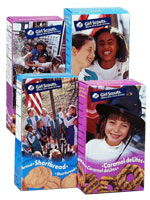 Rather than the charmingly misshapen scones and biscuits of one upon a time, you can now buy boxes of blandly identical shapes. There are however many different flavours to choose from – all with nauseatingly saccharine names such as: Do-si-dos, Thank you berry munch and Tagalongs. You can even buy online.
The good thing is that the intention of the sale of the cookies is still good – helping children to gain 'hands-on entrepreneurial' experience and to raise money for local good causes.  It's just a shame that they don't take the opportunity to add a lesson on cooking from actual ingredients.