Archive for December, 2009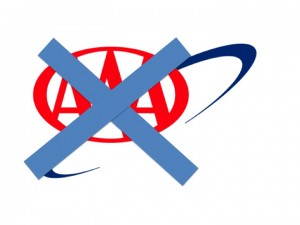 When you live in the UK, there are some things that you can depend on: for example that it will most likely be raining or that a London cabby will take you wherever you need to go without relying on a sat nav or hastily made mobile phone calls. I've really missed the "Knowledge" in many US towns.
Another British institution are those magnificent chaps from the RAC and AA – who have cheerfully helped me out during many car emergencies over the years. Every time they have showed up, they have worked hard to fix the problem.  For a time while I was part of a two Rover family I was on first name terms with some of the local chaps…(we had his and hers matching oil slicks in the car park).
I imagined that the AAA in the US would provide the same exemplary service. The other night I found that this is very much not the case:
Having returned to fragrant Newark station at around 11.30pm after a day's shopping in Manhattan, the Beemer's windscreen wipers packed up – in the middle of one of Newark's infinite number of dodgy areas and in the driving rain. Joy. When a quick fix looked out of the question (tried the fuses etc), calling the AAA seemed the best option – they'd send an expert to fix the problem – right?
Wrong. After 40 (yes that's forty) minutes on hold a professionally polite lady took all the usual details. You know the drill: my membership, the car and its location. All good so far but when I explained the problem she said:"Ok we'll send a tow truck for you."
Me: Can't you just send someone to fix the problem?
AAA: we change wheels, do jumpstarts on the spot or bring petrol but for anything else we tow.
Me: It's a Saturday night. Where would you tow us to?
AAA: Anywhere you like. It costs $5 per mile.
Me: boggle, yip, wibble, etc
So we fixed the problem another way by staying in the lovely Newark Hilton and driving back in the morning when it had stopped raining.
So now I know not to call them with anything difficult. And I know that I should just fix the easy stuff myself too – even I can change a wheel in under 40 mins. Grrrrrr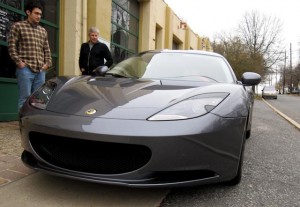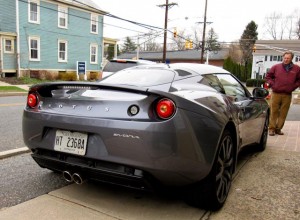 This week I was lucky enough to see a Lotus Evora – one of only two in the USA right now. It's the first mid-engined 2+2 and the only car in its class to deliver a top speed of around 150mph, acceleration of 0-60 in under 5 sec AND impressive fuel consumption of around 30 mpg (that's the smaller American gallons). I was curious to see how the Lotus motto of "add lightness" has translated into a car that can deliver those sorts of stats.
My first impression was that it is quite a looker – it's what the love child of a Ferrari 430 and a Lotus Exige might look like. Muscular and purposeful whilst still managing to look sleek and elegant. The angular air vents on the bonnet make the stunning curves look masculine and somehow you forget there's a back seat  – the shape just looks 'right'.
The cabin itself was quite a surprise, not least of all because you can get in there easily. With the Elise, I've always felt like I belong to an exclusive club of people who can (relatively) elegantly enter and exit. The Evora has lower sills so pretty much anyone can join the club. Once you are sat inside the big shock is that it is actually really plush in there – padded (yes padded) seats and beautiful if somewhat off-puttingly bright red, stitched leather around the dash and centre console. All the shiny steel buttons are stylish and nicely finished (no more dodgy plastic switches!). There's also quite a lot of kit for a Lotus  – aircon, touch display for sat nav, not to mention all the ipod/ Bluetooth connectivity you could wish for. This almost makes you forget that there's all this space behind the front seats. Two more, beautifully upholstered seats in fact. Although like all other 2+2s, anyone who wants to sit in the back has to concertina themselves and sit sideways – which I did. And it was OK, but then I am quite bendy.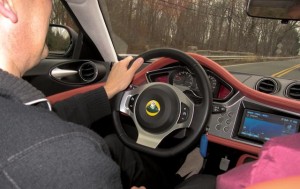 The visibility out of the back is astonishingly bad. The rear window is like one of those castle slit windows so it lets some light in but it is no good whatsoever for actually seeing what's going on out there.  Frankly, George Clooney could be on the back topping up his tan and you'd be none the wiser. The Lotus answer to this is the optional parking camera.  I'm not convinced that's the best solution.
One element that is notable for its absence is the start button. I've always thought this was a real toy for the boys. I don't miss it at all.
So what about the engine? Lotus has gone back to Toyota for the engine – this time taking the 3.5l V6 used by Camrys. They've added some of their secret sauce though, squeezing almost 280 bhp out of it.
Enough of the features- how does it drive? Well the first impression is that this is much heavier than the Elise, so it felt like a really substantial car. The ride is a LOT softer too. I'm more than used to feeling every contour of each matchstick I run over, but I do appreciate something a little more forgiving, particularly on the dreadful roads round here.  The power delivery is fast and smooth, and the red line arrives surprisingly quickly, accompanied by much dashboard flashing ( I quite like that).  Unfortunately the test ride was short and didn't really include much in terms of corners – however on even a short it was clear that that the usual Lotus road hold and cornering were all there. As for the brakes. OMG they were sharp. Used to the impressive anchors on the Elise, I don't think I've ever got into another car and found the brakes better. In fact they were so amazing I imagine they'll be detuned a bit for the full production version.
So all in all –I thought it was a really impressive car. All that experience of adding lightness has meant that Lotus could add some seriously luxe features whilst maintaining impressive performance. I'm a purist though so I still prefer my Elise but for those who like their luxury, the Evora is an awesome alternative for the 911 crowd – it's just a but more special.