Archive for February, 2009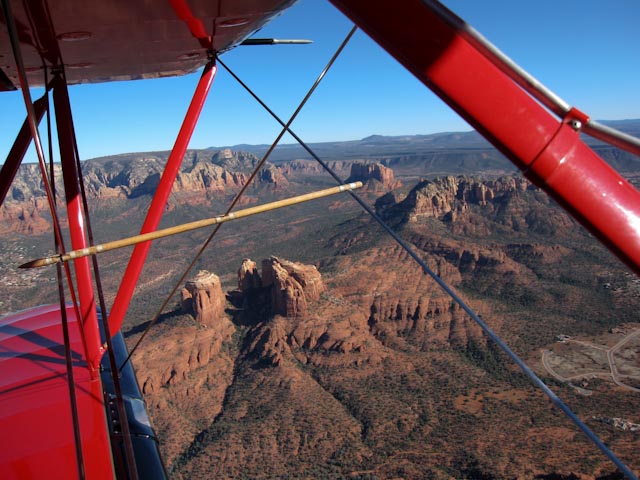 Last week we managed to get away from the snow and cold temperatures (yes it has been about -10C but that's not really a big deal here) to head over to beautiful Arizona for a few days. I'm ashamed to say that I always thought Arizona was a desert. Yes there are lots of hot, flat and uninspiring bits (in particular Phoenix whose only redeeming feature seems to be that it is pleasantly mild in the winter), but actually it is incredibly diverse. There are beautiful desert landscapes – with suaro cacti lined up for miles and miles like thousands of spiky sentries at their posts. Above this there are the mountainous woodlands with stunning craggy outcrops and twisty roads. Then there's the high desert – surprisingly cool and prairie like.

It was a brief trip – just three days that flew by – I just love to see the landscape roll by like a film, with a completely different scene every 15 minutes.

As always I was blown away by the variety – a couple of the highlights out of so many were: -
Staying in Jerome – a town of frequent reinvention. A mining town, a hippy community, now a

successfully artsy tourist draw with stunning views of the valley. We stayed at a very unusual hotel – once a hospital recently converted to retain some original features- including a radiator strapped to the reception ceiling, an old lift with a standard lamp in it, and apparently ghosts (we were issued with an IR thermometer and some sort of ghost-ometer).

We had the BEST breakfast in the Flatiron Café in the centre of town. You couldn't swing a budgie in there but it was perfect – simple, good food. Yum.

A biplane ride over Sedona. Sedona itself is quite astonishingly beautiful. Everywhere you look you see the geographic layer cakes – the breathtaking natural rock formations that have that sunset glow during all daylight hours. Seeing the whole area from the air was astonishing. The rock formations stretch for many more miles in every direction than I could have imagined. Seeing Sedona from a biplane was a very special experience. The simplicity of the technology gives so much more immediacy - you are not a passenger, you are a participant, with a Biggles hat in an open cockpit. As soon as you get in, you are given instructions (don't touch that – that's the throttle, try not to bang that line, that's the rudder control etc). Wow. I don't think I'll ever forget this.
Northern Arizona hosts a vast acreage of high plateau landscapes. Up there in the middle of nowhere is a town called Winslow. To be honest it is horrible. Its heyday was as a railway hub and later as a stop on the famous Route 66. Now it is run down, with boarded up buildings, burnt out cars and exceptionally uninviting diners. The reason for highlighting it here is the La Posada hotel. A complete gem in the middle of the town. The owners have restored this old railway hotel in a thoughtful and painstaking way. The greatest joy lies in discovering art, ceramics and sculpture pieces in every corner.

And finally – I LOVED the outdoor botanical gardens. Not only was this the motherlode of cacti, the class sculpture exhibition was a pleasant surprise. The venue was perfect – placing the smooth near the spiky was inspired.
It's amazing how much you can pack in when you try 😉