Archive for October, 2008
I made my first Halloween pumpkin today.  I'm pretty pleased with the results. All the other ones in town look quite smiley and nice. This is the only one that looks a little mean.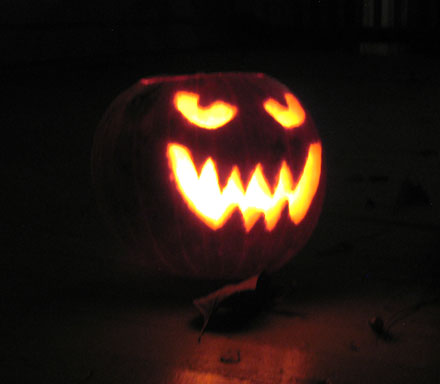 Actually I was a bit surprised at what a palarver they are to make. Technically not that hard (I bought a kit with tiny saws at the supermarket) but involving scooping out all the slimy entrails through a small hole in the top. And they are all connected by long slimy stringy intestine-y bits. Yuk.
I'm a trying to get into the spirit of things for the night itself. I'm not sure if children still come round to strangers' houses but I guess I should buy a large bag of sweeties just in case. (oooh now do I buy stuff that would be edible if the vile urhchins don't come round? Ie chocolate with cocoa in it or do I stick with the jelly worms? Big decision for next visit to supermarket). I'm not sure what to expect to tell you the truth. Most of the disenfranchised youth of town seem to congregate next door to smoke in the garden or have Jerry Springer style arguements at top volume outside the house. I guess that's because there isn't a 7 eleven to hang out at.
Actually Halloween here confuses me – they  get dressed up as pretty much anything. Not just scary things, witches and monsters etc but anything – fairies, super heroes, ladybirds. A little odd.